By Sue Tepatti with Darby Barker and Jennifer Zablotny, DVM
Koda came into Rescue at 15 months old. His serious medical condition proved to be more expensive than his family could afford. This is his story…
When all mammals are born, the vessel that bypasses the liver in utero closes allowing blood to flow through the liver. A similar bypass involves the lungs, the ductus arteriosus. Once the bypass closes, the liver does all of the processing of the blood that flows through, removing toxins like bile acids. In Koda's case, the bypass didn't close. This is known as a portosystemic shunt or PSS. Normally, the blood from the intestines flows through the liver for cleaning after a meal; however, PSS allows the blood to go around the liver and toxins are not removed. Shortly after purchasing Koda his family noticed he was experiencing disorientation, staggering, and seizures after he ate. The rise in toxins in his blood lead to these effects on his central nervous system.
Some cases of PSS can be managed with a strict diet and medications; however, Koda's case needed surgery; a very costly surgery performed by a Veterinary Specialist. Being in a tight financial situation, Koda's family decided to reach out on social media to the NCA Michigan-Ohio Newfoundland Rescue for help. The NCA Charitable Trust, first generously offered to assist the family with half of the costly surgery. Unfortunately, this still remained financially unfeasible for Koda's owner, and his family came to the difficult realization that surrendering him into the care of the NCA Rescue would best serve his future.
The decision to surrender a Newf is unthinkable for many owners. In many cases, these are not decisions made on a whim. The NCA Trust's reputation for outstanding care of Newfoundlands gives owners comfort and confidence in their heart-wrenching decision to surrender their beloved dog in need. The surrender days are incredibly difficult for the families saying goodbye, and for the rescuers taking in the dog. Koda's surrender, on November 18th, was no exception. After many hugs, tears, and reassurances that Koda would receive the lifesaving care he needed, he was ushered into his new life.
Working closely with several veterinarians, the low protein diet and medications began to stabilize his condition until surgery could be scheduled. His rigorous medication schedule required an antibiotic and Lactulose three times a day, and constant vigilance from his foster caregivers to find the right medication combination.
The Animal Surgical Center was contacted to schedule Koda's surgery in hopes that they could get him in quickly. Although ASC's surgery schedule was booked until January, they managed to fit him in for an early December appointment. While the surgical center was not nearby, the foster home was committed to seeing that Koda received the care he needed by the specialists who originally diagnosed his PSS.
Dr. Dan Degner completed the surgery, which consisted of placing a cellophane band around the unclosed port/vein. The band, along with scar tissue, would slowly constrict the vessel within two months' time. Slow closure of the port/vein is critical, as sudden closure would cause massive hypertensive damage in the liver.
The genetics of PSS are unknown. It occurs with some frequency in some breeds, such as Yorkies, so there is likely a genetic component. The cause in a certain percentage are likely unknown. Even though his pedigree is unknown, Koda's DNA is valuable for future studies, and saving other dogs that suffer from PSS. He will have blood sent to the OFA CHIC DNA Repository for DNA storage because of his shunt.
Koda's post-surgery care consists of continued vet follow-ups to determine if the surgery was successful. So far Koda has gained weight and is no longer experiencing seizures, disorientation and staggering after eating. His foster family happily reports that he now has boundless energy, racing through the snow, chasing his foster brother Taz (another Newfoundland saved by the NCA Charitable Trust), and bouncing around like a light-weight prize fighter. Koda embodies the gentle spirit of the Newfoundland dog. Even before his surgery, he was loving and very affectionate with eyes that melt everyone's heart. He loves people and other dogs, children, and seniors. Everyone that Koda has met along this journey has been enamored with him.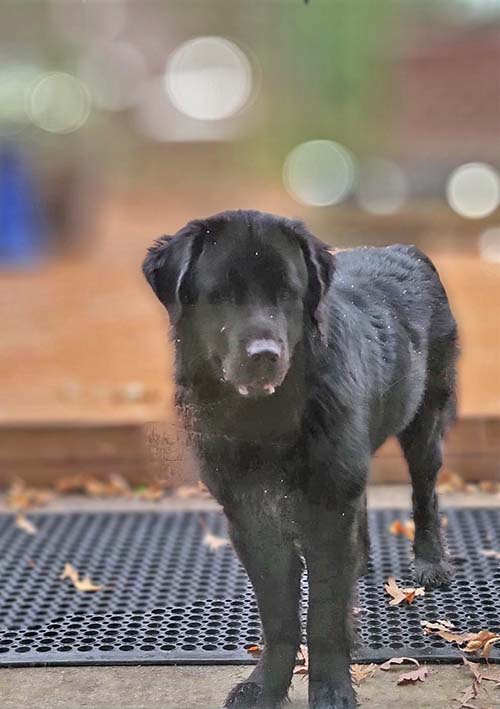 This Newfoundland thinks he is a lap dog, often asking to be petted by placing his head underneath a hand. He loves toys and has a deep-seated desire to rid the world of toy squeakers. This young dog can now be and act like the young dog he is truly meant to be.
Further blood tests will determine the normalcy of Koda's life ahead of him, but as of now we are very hopeful that the efforts by the NCA Charitable Trust have changed the expected outcome of Koda's life.
The Animal Surgical Center of Michigan was very generous with their time and effort and discounted their bill to NCA Rescue. In addition, an anonymous donation from a northern Michigan humane society contributed funds to cover Koda's initial diagnosis.
Koda's vet bills are approaching $5,500. Support of the NCA Charitable Trust from multiple donors, has truly been Koda's lifeline. Many loving hands have aided directly and indirectly, and have participated in throwing out the lifeline that has saved Koda:
• His family that made the heartbreaking choice to place him in the hands of the Rescue.
• The Rescue transport team member who comforted Koda and his family as they said goodbye.
• The transport members who drove the length of Lower Michigan and back again to get Koda to his foster home.
• His foster that has cared for him throughout all his treatments.
• The many veterinary personnel that never gave up on him, administering a carefully thought-out treatment plan.
• The donors to the NCA Charitable Trust that made saying "Yes, we can do this", possible. Without these donors, sweet souls like Koda would not receive life-saving treatments.
Thank you to everyone that has donated to Rescue or remembered the NCA Charitable Trust in their estate planning. Your generosity gave Koda a second chance at a normal life.
Please share our stories: