The call for help came while most of us were at the 2007 National Specialty in Colorado. A female Newfoundland was at Animal Control in Indianapolis, picked up with another dog at the same location that died within a day of arrival.
Arrangements were made with Animal Control. and they graciously held her for South Central Newfoundland Club's rescue team.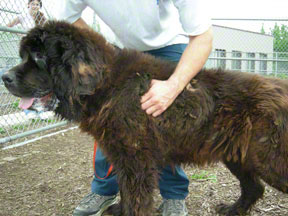 She came to us severely malnourished; easily 25-plus pounds underweight and neglected. Just from looking at her, you knew life had not been easy or kind. My husband named her Hope, for "Ever Hopeful."
Hope stayed at our clinic initially where she was also diagnosed with severe heartworm infestation and cardiac conditions, among other things. Randy and Margaret Cassady agreed to foster Hope knowing it was going to be awhile, because we could do little for her until she gained some semblance of health.
We truly did not know if she would survive; her overall condition was that bad.
Over the summer Hope gained some much needed weight, visited a cardiologist who confirmed her heart issues were possibly related to the severity of the heartworms, and eventually in late summer underwent her heartworm treatment.
In the meantime Randy and Margaret spent considerable hours training Hope to be an indoor dog, housetraining, crate training, walking on lead, and most of all learning to trust. Just when we thought she was in the clear, she came into a heightened heat cycle.
It is our thought that she had been so physically depressed that she had not had a normal heat cycle in who knows how long. Finally by late December she was spayed and declared ready for a home.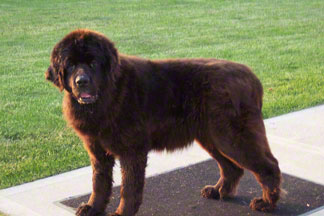 What makes Hope's story different? Well nothing, really. Rescue sees dogs in this condition all too often. What made the difference for Hope? The People. What makes all Rescues special? The People.
Unabashedly SCNC thanks "The People" who made the difference for Hope:
. . . Randy and Margaret Cassady for fostering, loving, caring for, and spending hours upon hours with Hope over the 11 months she was a part of their home. They made her into a house dog, one able to go live with a loving family.
. . . South Central Newfoundland Club's Rescue Committee for everyone's support and care.
. . . Donors to the Newfoundland Club of America Rescue Fund, which provided a generous grant to support Hope's innumerable veterinary bills.
. . . Dr. Richard E. Kohlmann for the donation of Hope's complete heartworm treatment. as well as his belief that she would get better.
. . . The staff of Westfield Veterinary Care for the tender care of Hope while she stayed with us.
. . . The Pennsylvania "contingent:" Bruce and Bethany Karger for doing her home check, and Rhoda Hartmann and Aura Dean for responding so quickly and positively to our request for help.
. . .Kathleen Hamilton for assisting Hope's adopting family
. . . . Last, but not least, to my husband, Kelly Davis, for picking up and being there for Hope when she needed it most. It is because of all of you that Hope is traveling to her new home. It is because of all of you that Hope has a second chance. Thank you. Virginia Davis SCNC Rescue Committee Member
Please share our stories: