In September of 2007, the Bear Mountain Newfoundland Club Rescue Chairperson sent out an email to the club members informing everyone that a female Newfoundland had been found in Poughkeepsie and was in need of a foster home. She was being taken care of by a vet in Poughkeepsie and had already been there for over a week.
My husband Steve and I had adopted a one and a half year old newf in May, but we felt we had room for a foster, too. We felt terrible about her having to be boarded at the vet's office; we were told that she was not in good shape.
I looked at Steve, Steve looked and me, and it was decided: we were going to go down and pick her up. She needed to get out of there and get some TLC if she was going to start getting better.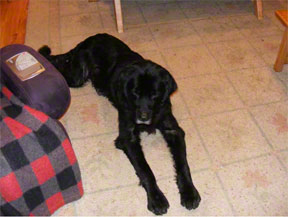 We drove down to Poughkeepsie wondering what we would be faced with. I was shocked at her condition: she had bald patches from missing hair; her toe nails were so long that she could barely walk; she was thin and sick.
She had an infection and had tested positive for heartworm. She was a mess. She was very timid, but went with us willingly when we put the leash on her. She jumped in the back of the van, and we took her home.
We had never rescued a dog before, so this was a new experience for us. We weren't sure if she would form a bond with us, but we were willing to try.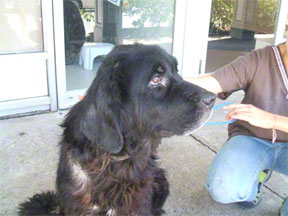 When we got her home, we looked her over carefully. Her teeth were worn down to the gums, so there was no real way to determine her age, although the vet thought she was probably somewhere between 5 and 8 years old.
She looked as if she might have had a few litters, perhaps even a recent one. Steve got out the toenail clippers, and started trimming her nails. He clipped and clipped and clipped her nails, but he never got to the quick.
Her nails were so brittle from lack of nutrition. She settled in quickly enough. Our other newf, Tonka, took to her immediately. He thought we had brought home a new toy for him. Being a very energetic dog, he really wanted to play with her.
She was too weak and lacked strength and balance to be able to rough house with him, so we had to watch the two of them together. She snapped at a couple of dogs in the neighborhood when we first started taking care of her; every time we would see a dog walking down our road, we tried to introduce her to them.
Her reaction was varied. We never figured out what made her snap at one dog while wagging her tail at another. Some of the dogs were male, and some were female, so it didn't seem to be any particular gender issue.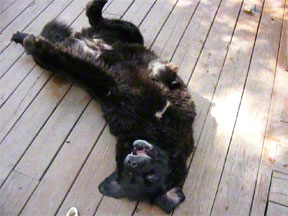 She had been on antibiotics from the Poughkeepsie vet, so we continued giving Emmy the medicine. We brought her to our vet who monitored her infection, and after the infection was gone a few weeks later, we made plans for Emmy to start her heartworm treatment.
We dropped her off at the vet for the day, and she had her first injection that morning. She stayed overnight for the second injection the next morning. We took her home at the end of the second day, and the vet told us to keep her quiet, and not to move her around much.
She stayed on the lower floor where she wouldn't have to use the stairs and could go right outside.
Unfortunately, by the morning after we had brought her home, she developed a severe reaction to the treatment: she was swollen from her mid back down through her back legs. She was yelping every time she moved and had a high temperature.
We brought her back to the vet immediately, and they put her on intravenous and topical steroids. They shaved a patch on her back to give her the topical steroids. She stayed overnight while they gave her the steroids and kept her temperature down.
She was well enough to come back home after a day or so. She had her third treatment about three weeks later, and that went very well. We prepped Emmy a few days before the treatment with several doses of oral steroids just to make sure she got through it without any reaction. We were so relieved!
A few months later, she had a chest x-ray and blood work, and she had no trace of the heartworm! We decided somewhere during the heartworm treatment that we were going to keep her. She needed a lot of help, and we had the time and the resources to help her.
Since the heartworm treatment, Emmy has been improving steadily. She's gained 15 pounds back, and the bald patches are gone. She is the MOST stubborn of newfies, though. She wants to go HER way when we walk; it's a negotiation every time we go out.
We can't let her off the leash because she's a runner – she has somewhere to be, it seems. She is taking thyroid medication every day; we noticed her hair wasn't growing back after the heartworm treatment, so the vet prescribed a daily pill for stimulating her thyroid.
We took her on vacation with us this summer to the Outer Banks in North Carolina. She enjoyed the beach, but not the waves. She likes her little creek at home where she can plough right in and stand quietly in the cold water. We walk a lot! We walk between 1.5 and 3 miles a day (depending on the weather.)
She is learning to be around other dogs; we took her on a 5 mile hike with 8 other dogs, and she had a great time! She was well behaved, and kept up with everyone.
She loves getting out and seeing the neighborhood; the neighbors get such a kick out of the two dogs walking with us down the road. We get so many comments on how they look like bears (there are black bears where we live, so that's not surprising.)
We brought her to a club event, and she seemed to enjoy herself. Everyone who had seen her previously was amazed at her progress. She looks like a different dog now.

No one has ever come forward to claim her or put in a lost dog report that we know of or that the club has heard about. We are so attached to her.
She loves to be scratched on her chin and back and will shove her head under my elbow if I don't give her enough attention. She's very happy to sleep at our feet while we work or watch TV. She will have a comfortable home with us for the rest of her life.
Please share our stories: